Wow, this week has just flown by and now it is time to write my 2nd Friday's Letters post.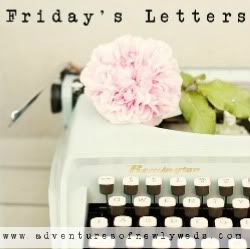 Dear Chazzy, Thank you for visiting London today - it was just lovely seeing your face, looking forward to Christmas now.
Dear Nadine, YOU ARE BACK TOMORROW!! Will be good to catch up and hope you approve of our Christmas decorations and tree...
Dear B & Q, You had such an amazing selection of Christmas decorations, it was so hard to choose.
Dear Vodafone, Please stop sending me pointless text messages - everytime my phone goes off I think I'm popular but it is actually just an advert. STOP IT.
Hope you have a lovely evening.