Ashley over at
Adventures of Newlyweds
does this post on a Friday - basc summing up the week, informally and in letter form!
It is such a great idea.
Anyhow, she has decided to use this post as an opportunity for other bloggers to link up and write their own letters! :)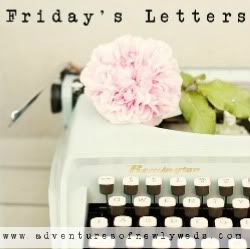 Dear TFL (Transport for London), Thank you for making my day today on the No. 42 bus from Liverpool Street. The Oyster reading wasn't working so I got a free ride home - this was the best way to end a busy Friday.
Dear Mary, Super looking forward to our chilled evening tomorrow, hopefully it won't be as spontaneous as last week!
Dear November, THANK YOU for being so warm - again no need to wear a coat today, it makes choosing my outfit in the morning so much easier!!
Finally...
Dear Body, I'm really going to try and start a new running programme tomorrow at some point - please don't give up on me!
Enjoy you're evening!