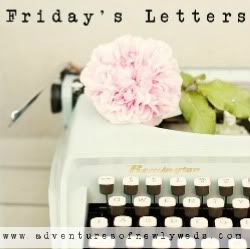 I can't believe that I'm now on my 5th post for Friday's Letters. I'm really enjoying linking up and reading what other bloggers have written but I think it allows me to reflect on the past week.
Dear Mary & Nadine, Thank you so much for a lovely Christmas morning today. It is definitely a favourite part of living in our little flat. I'm going to miss you both a ton when I go home but I hope you both have a lovely Christmas time.
Dear Fam, I'm coming home today and really looking forward to getting back into the way of life in the country. I hope the Christmas tree is already up, just sayin'!
Dear Chazzy, Please can we go ice skating this week??
Hope you all have a wonderful weekend!